An F1 Boiler fault is one of the most common error codes people get with their boilers. This post is a guide to that error message (and other similar ones) and how to fix f1 on boilers.
What does an F1 Boiler Fault Code mean?
This error message shown on a boiler is often on Ideal Boilers, including various models, and is associated with your boiler losing pressure from the system. As we have discussed previously when looking at boiler leaks, this in turn can be caused various factors, one of which is a water leak. If you have an F1 boiler fault repeatedly, you may have a water leak. so get in touch with us today for help.

What Causes an F1 Boiler Fault?
Well Ideal Boilers themselves on their website FAQs say an F1 boiler fault message means – "Water Pressure is too Low and will require topping up to between 1 and 1.5 BAR" which is useful.
We get contacted from people who have an ideal f1 boiler error issue, including ideal logic combi boiler f1 errors. But the obvious question is…
Does F1 Combi Boiler Fault Mean I Have a Leak?
Well the simple answer is possibly, if you have a water leak, it will obviously cause water to leak out of the central heating system thus causing water to drop. If you top up the pressure on the system, as per the manufacturers instructions, but still get a pressure drop that increases the chances of you having a water leak, especially if it drops very quickly or you are having to top it up constantly.
For more on this, please see our article about combi boiler leaking and what to do.

What can I do if I have an F1 boiler fault Error?
Firstly, if you are confident to do so, try to repressurise the system following the manufacturers guidelines. Get professional help if you are not confident. If you feel you need help, always use a Gas Safe registered heating engineer.
Then, after you have done this, keep an eye on the boiler pressure gauge afterwards. Firstly, remember the pressure level you set it to (ideally set it to a mark you can reference against – for example 1.0, 1.5 or another mark on the gauge within the recommended range for your boiler). Secondly, over a period of 24-48 hours, watch to see if your boiler pressure drops significantly. You may even get an F1 boiler fault error again.
Make sure you are comparing pressure on a like for like basis as, generally, a warmed up running system will have higher pressure than a cooled down one. This is where pressure relief valves can come into play.
If you are seeing your boiler drop within that timeframe, especially if it errors again, then get in touch with us and we will help with your problem.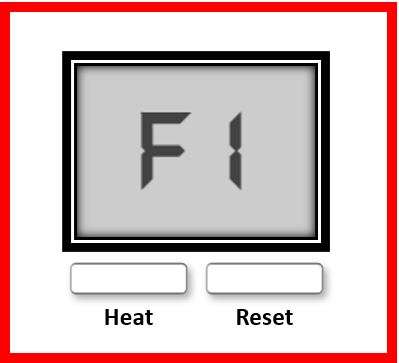 What are the Pressure Loss Codes for my Boiler?
Clearly there are many different manufacturers and makes of boiler, each with their own settings and instructions. There are are too many to list all but here are a few that are common in the UK marketplace that are equivalent to the F1 boiler fault…
Please remember – this is just a guide, always check your manufacturer and model specific instructions. Manufacturers may use similar (or the same codes) for different models so always please check with your manufacturer, especially as new releases are coming out all the time. Even some of the manufacturer websites for error codes say 'possible' fault with their codes.
You can find many of the top manufacturer websites – here
Alpha Fault Codes – pressure loss:
Alpha Boiler Error Code E10
Baxi Fault Codes – pressure loss:
Baxi Boiler Error Code H.02 – .06
Baxi Boiler Error Code E.02 – .07
Baxi Boiler Error Code E118
Baxi Boiler Error Code 118
Baxi Boiler Error Code 119
Baxi Boiler Error Code 125
Ferroli Fault Codes – Pressure loss:
Ferroli Boiler Error Code F35
Ferroli Boiler Error Code F37
Ferroli Boiler Error Code A37
Glow Worm Fault Codes – pressure loss:
Some of the Glow Worm fault codes are based on flashing lights, with others on codes so the Glow Worm website has more information. That said, here are some possible codes;
Glow Worm Boiler Error Code F9 / 22
Glow Worm Boiler Error Code F.22
Glow Worm Boiler Error Code F.24
Glow Worm was acquired by Vaillant Group some time ago so some of the codes are similar for those too…
Vaillant Fault Codes – pressure loss:
Vailliant Boiler Error Code F12
Vailliant Boiler Error Code F24
Vailliant Boiler Error Code F73
Worcester Bosch Fault Codes – pressure loss:
Worcester Bosch Boiler Error Code CE 207
Worcester Bosch Boiler Error Code H07
Worcester Bosch Boiler Error Code 1017W
Worcester Bosch Boiler Error Code 2970 B
Worcester Bosch Boiler Error Code 2971 B
Worcester Bosch Boiler Error Code A1
Worcester Bosch Boiler Error Code 224 V
So if you have an F1 boiler fault (or the same for your boiler), and think you might have a water leak, we can help understand what is causing your boiler losing pressure regularly. Our friendly advanced leak detector team see these kinds of problems regularly and know what to look for to help find any leaks on your central heating system network related to f1 boiler faults. We do this for both domestic and commercial customers, using professional leak detectors.
You may be interested in reviewing our article about central heating pipe leak sealer and similarly our inciteful new tool for when you have Boiler Pressure Low

What should I do if boiler loses pressure?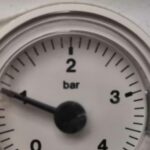 If your boiler is losing pressure, especially if it is happening regularly, fast or even after being checked by a boiler engineers – get in touch and speak to our leak detection specialists who can discuss you situation and give advice. Including if you have an F1 boiler fault or a similar error.
What happens when boiler pressure is low?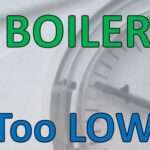 Your boiler pressure dropping is likely to either stop your boiler working or cause it to work less effectively. We have a guide to boiler pressure, how to understand what the best pressure for your boiler is including for different makes of boiler such as Ideal Logic Boilers, Worcester Bosch, Ferrolli, Glo Worm, Vaillant boilers and many other similar boilers.
How do you check the pressure on a Worcester Boiler?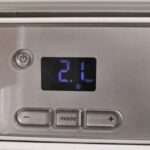 Most Worcester Boilers have a pressure gauge on the front of the boiler, on many occasions the pressure gauge will also have a 'green zone' on it, usually indicating the safe or ideal range of the boiler pressure. For understanding the best pressure of your Worcester boiler, consult your manufacturer instructions. They may also have a display showing errors such as F1 boiler faults.
What does f1 mean on ideal boiler?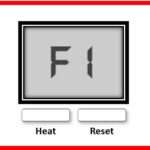 Having f1 boiler fault on your ideal boiler means that your boiler is losing pressure which may stop it from operating effectively, or at all. There are a few reasons this may occur, including having an issue with your boiler or possibly a leak on your central heating pipes. Either way, in order to get rid of the f1 on ideal boilers, you need to find the cause.