Do you really need a leak detection specialist or can you find a water leak on your own? Or can your plumber help you find a water leak? Here is our guide to water leak detection specialists.
What is a Leak Detection Specialist?
A leak detection specialist is someone who is specifically trained and experienced in finding water leaks in your property. They will follow a step by step process for finding a leak and use specialist equipment to maximise the chances of finding a water leak and utilise professional leak detection equipment to maximise the chances of finding your leak. It is a specialist skill which can prove invaluable as finding a water leak ASAP helps to reduce the chances of water damage to your property caused by the water leak.

Can I find a Water Leak on my Own?
There are times when water leaks are very obvious so, sometimes, yes you can find it on your own and can fix it yourself or get your local plumber to fix it for you. However, in our experience, many different types of water leak are in hidden places not immediately obvious to the DIY or amateur leak detector and benefit from different leak detection methods. An experienced professional leak detection specialist has a much higher chance of finding a water leak than the average person.
Plus they will likely be using specialist, professional equipment to find water leaks. That kind of equipment is not generally economical to buy for someone finding a single water leak.
If you need help from a leak detection specialist, contact us today.
A Leak Detection Specialist Near Me
So you have decided you need a leak detection specialist but how do you find one near where you live? Well we can sort that for you as with advanced water leak detection specialists in our team ready to help find your water leak for you.
Plus you know you will be using a brand which has an excellent reputation and are leak detection experts in both finding water leaks and evaluating the water damage to your property caused by leaks.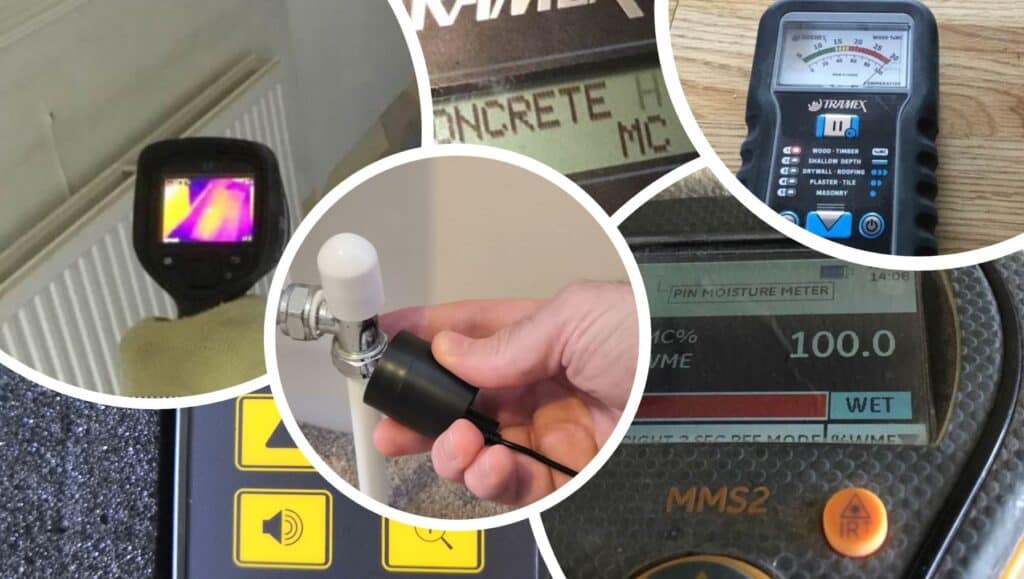 What is Leak Detection Specialist Equipment?
See here for our guide to the equipment used in finding water leaks, but here are the main water leak detection equipment a leak detection specialist will use:
All these combined are used for different types of leak detection locally, including when investigating a leak between water meter and house.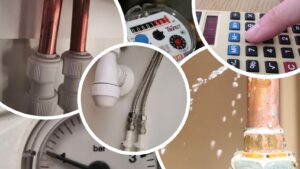 Something you may find useful is our Water Usage Calculator
Can Plumbers Find Water Leaks?
A bit like we said earlier, it depends on the plumber and the type of leak. It is fair to say that a plumber is likely to have a better chance of finding a water leak than an average person. However, not normally as good as a trained plumbing leak detection specialist.
In fact, we regularly get work from people who have contacted their plumber but either they could not find the leak or they suggested to use a leak detection specialist like us, like trying to find a leak on a combi boiler network of pipes (which likely will be hidden and hard to find).
A good plumber near you will likely be great at fixing leaks and plumbing etc but they will unlikely be trained in leak detection or have access to the specialist leak detectors that we have in our kit. We look at this and explain it in more detail in our article about local plumbers and water leaks.
Why Use our Leak Detection Specialists?
A few more reasons you should use us to find your water leak:
We are trusted by many of the biggest and best insurance companies in to deliver services to a very high standard locally – and produce insurance quality leak detection reports.
All of our staff are, trained, vetted and friendly. That goes for the people answering the phone all the way through to carrying out the investigations at your property.
We carry out leak detection specialist work in a vast and varied array of domestic homes and commercial properties – including finding leaks in hotels, restaurants, offices, factories etc. We are aware that, in such situations, that business interruption is a key factor too.
We offer a free consultation service contact us in whichever way you prefer and we will talk to you about your property, understanding your suspicions of a leak and guide you through the process of what our leak detection engineers can do for you.
We have a very high success rate of finding water leaks in homes and businesses.
After we have found your leak, we can help you to understand the water damage to your property, make recommendations and, if needed, help you dry your property.
We often work with loss adjusters and so can help liaise with them too.

What makes a leak detectable?
Professional water leak detection tools mostly work on the same principle – looking for the signs of a water leak in your property. These tell-tale signs can indicate the presence of a water leak and also finding the location of it. This can include visible, acoustic, thermal and other signs which leak detection specialist equipment can pick up on and pinpoint the location of the water leak.
Is there a tool to detect a water leak?
There are many types of leak detection tools, all of which have different purposes and specialism in looking for water leaks. There is not one single tool that can consistently find all types of leak which is why our leak detection specialists are equipped with many professional leak detection devices, including professional moisture meters, thermal imaging, acoustic and tracer gas detection.
How long can a water leak go undetected?
Water leaks can be hidden and go undetected from homes and businesses for weeks, months or even years in some instances. If a leak is small, inconspicuous or in an inaccessible place then you may not see it immediately. People sometimes only realise they have a water leak after water damage from it has built up to the point where it is visibly affecting the property. But then finding the leak can still be tricky, which is where a leak detection specialist like us can help