What to do if you have a Ceiling Leak
If you have a ceiling leak, we strongly recommend that you get help straight away and take care around the area affected, above and below it but especially underneath it. Ceiling leaks are one of the most risky types of water leaks for a number of reasons. Ceiling leaks can often be spotted by seeing cracks in your plaster, holes, dripping water or damp patches on ceilings.
Is a Ceiling Leak an Emergency?
Ceiling leaks can be emergencies, sometimes they are small but they do carry additional risks too, say for example, vs an underground pipe leak in concrete. They can also get worse quickly with significant effects on your house and the people living there. If you have a ceiling leak, do not ignore it, get help straight away to help minimise the risks. More on this next…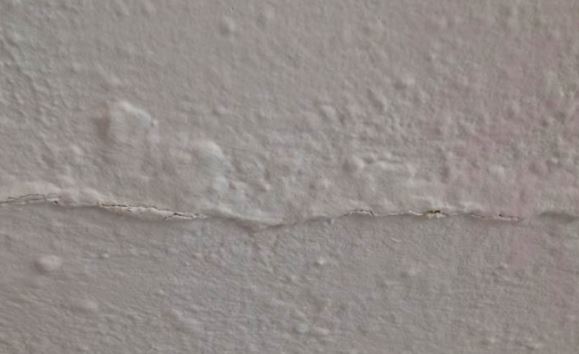 What Risks are there with a Ceiling Leak?
There are many risks that can come with ceiling leaks, many of them significant:
Risk of falling debris – clearly, items falling from your ceiling are never a good thing. As we highlighted above, this can be gradual but it can also be sudden, bringing down both the ceiling materials, insulation and other debris immediately above the area affected. Which leads us on to…
Respiratory Risks – ceiling leaks can cause a lot of dust and debris which can cause a respiratory risk. This is especially the case where there is a

potential

risk of asbestos containing materials (ACMs). Asbestos

can

be found in textured coatings on ceilings or sometimes in other building materials, often depending on the age of the property. Textured coatings are not usually a hazard to health unless they are disturbed and the fibres released, such as from a water leak. Wherever this is a possible risk, it is very important to get the materials tested and to avoid the debris. Rainbow Restoration have qualified asbestos testing technicians, so we offer this service too. If ACMs are confirmed, we also offer an asbestos removal service too. For more information on the health risks of asbestos, see this wikipedia article. It is important to understand the potential risks and to avoid disturbing, touching, damaging or moving any areas of affected textured coating or any other materials with the potential to cause harm, always stay on the safe side and treat any materials as though they could carry this risk, we do. This is something we can help to discuss with your insurer.
Structural damage – related to the first point, water leaks in ceilings can cause water damaged ceilings or damage to the fabric of the building, both in terms of the areas directly affected, but also items affected by debris which has fallen.
Contents damage – very related to the previous point, the water from the leak and debris can fall on contents and possessions in your house, including furniture etc and also carpets and floorings. This damage can be extensive if it spreads and is not dealt with.
Electrical risks – ceilings can regularly have electrical wires in them, commonly for ceiling lights but also for other wiring around the house. As you will likely know, electrical wiring and water are not a good combination, and carry a risk of electric shock or even possibly sparking which can cause fires. We are able to help with these checks.
Tripping hazards, slips, trips and falls – again, related to earlier points, water and debris can fall onto the floor making them slippery and presenting tripping hazards.
We are sure you can understand why we always carry out a risk assessment to understand the risks presented to everyone, and to prevent the consequences with mitigating actions.
As experts in Water Damage Restoration, we can help with the after effects of a leak which can be extensive in some situations. We are often appointed to help in that specific capacity by a professional loss adjuster because of our experience and knowledge.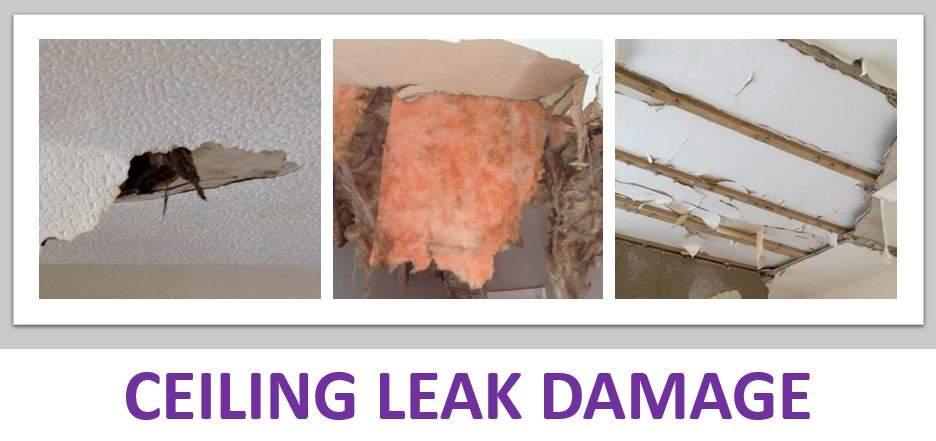 What can cause a Ceiling Leak?
People often think that ceiling leaks must be easy to find and that you just look wherever there is a crack or hole in the ceiling but it is not always that simple. Water from leaks can track horizontally before going downwards, this will be greatly affected by the design, structure and materials in the fabric of a building. That said, here are some common causes of ceiling leaks:
Leaks in bathrooms – from baths, showers and sinks etc.
Leaks in seals – similar to the previous point, seals around fixtures in bathrooms.
Leaks in roofs – weather ingress of rain into holes, cracks or leaky roofs
Loft Tank leaks – from cold or hot water tanks in airing cupboards or lofts
Leaks in pipework – pipes that travel in the space above a ceiling (hot or cold)
Accidental damage – from people leaving taps or baths running for example
Frozen water (which burst pipes) – as you might expect, it's more common in winter
We have a detailed article on 10 common water leak causes that regularly happen, there are other possible causes, but these are some of the common ones. We also have written a guide to Water Resistant Plasterboard, discussing is pros and possible cons.
Related to number 1 on that list above, one common thing that can cause that is a shower leaking through a ceiling, which as the article shows, can be for a few reasons. We discuss this in our blog post regarding using Mr Muscle Sink Unblocker and our guide to leaking shower drains
We also have a separate help and advice article on how to deal with frozen pipes. And another on how to avoid water leaks in your home by being proactive.

Of course in some situations, the water leak may not actually be from your own property if could be a water leak from an upstairs flat, which is a potentially trickier scenario with regard to who is responsible for sorting it, either way, do not ignore it and act appropriately fast.
It could also be a water leak between meter and house too. To find out more about the methods we use, see our guide to the best advanced leak detection systems.
How serious is a ceiling leak?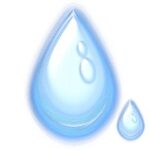 Clearly it will depend if a ceiling leak is serious but it certainly has the potential to be very serious, especially in the following situations – if the ceiling leak is a lot of water, causing more damage and greater risks. Secondly, if the leak comes into contact with electrical wiring, lighting and junction boxes etc. Finally, if for example, the ceiling has a textured coated ceiling and has the potential to contain asbestos. There are other risks too.
Are ceiling leaks covered by insurance?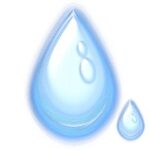 Clearly, whether a ceiling leak is covered by your home insurance policy will depend on the details of your policy and type of leak. However, assuming there is nothing untoward, then a ceiling leak would definitely be covered by most buildings insurance policy. Ceiling leaks can cause a lot of damage, and have a number of risks associated with them so do get help.