An E119 Boiler fault is one of the most often seen boiler error codes that people get with their combi boilers in the UK. This page is a simple and useful guide to help you with that particular error message (and other similar codes) and how to resolve E119 boiler fault diagnostic codes on boilers, or other similar codes.
What does an E119 Boiler Fault Code mean?
This E119 code (which can sometimes be E118 on other models) error message / fault code shown on a boiler is often on Baxi Boilers or Potterton Boilers. They make various models such as the Assure or Promax models range. Baxi and Potterton are part of BDR Thermea a large European manufacturer with British offices located in the Midlands in England.
This code can be linked to your boiler losing pressure from the central heating system. As we have mentioned previously when looking at boiler leaks, this in turn can be caused various different factors, one of which can be a water leak, especially if it is repeated after regular top-ups. If you have an E119 boiler fault or E118 boiler fault regularly, you possibly have a water leak so contact us today for help with resolving this.

What the Cause of an E119 Boiler Fault?
Well Baxi Boilers themselves on their own website self-help page says an E119 boiler fault message means – "Your boiler has detected that the pressure is too low, so you need to top it up" which is certainly useful information. Later on that page they additionally say, "…it may be that there is a leak somewhere in your heating system".
We get contacted from customers who have a Baxi e119 boiler error issue, including Baxi combi boiler errors. But the likely follow-up question you will have is…
Does E119 Boiler Fault Mean I Have a Leak?
Well the simple answer is that it is possible, if you have a water leak on the central heating system of pipework (which will likely often be hidden or enclosed in your house) it will clearly cause water to leak out of the central heating system thus causing water levels and pressure to drop, triggering an E119 boiler fault on the digital display panel.
If you are confident enough to proceed with topping-up the pressure on the central heating system, as per the manufacturers instructions from Baxi (or Potterton) shown previously, but still get a pressure drop that the chances of you having a water leak are more likely. This is especially the case if it drops fast or you are having to top it up on a regular basis.
For more on this, please see our other similar article about combi boiler leaking and what to do.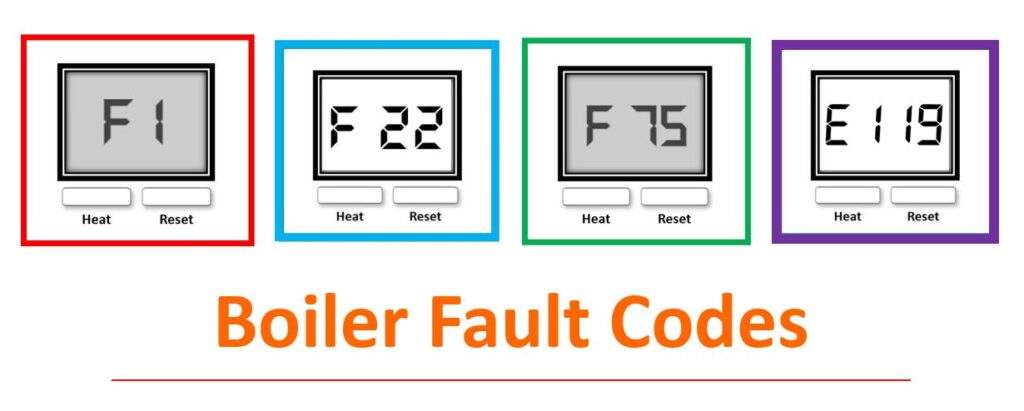 What to do if I Have an Error E119 boiler fault?
If you are confident and able enough to do it, consider trying to re-pressurise the system as per the manufacturers guidelines. Get professional help if you are not confident or simply want assistance. If you do feel you need professional help, always use a registered, accredited Gas Safe registered heating engineer.
Following that, please keep an eye on the boiler pressure gauge afterwards. It is worth checking at regular intervals (like every hour). First of all, record or note the pressure level you reset it to (ideally set it to a place you can check against – for example 1.0, 1.5 or another mark on the gauge within the recommended range for your particular boiler).
Secondly, follow that over a period of 24-72 hours, observe it to see if your boiler pressure drops noticeably. You may even get an E119 boiler fault error appearing once again, stopping it working.
To help with that, you may also find our Boiler Pressure Low? – Leak Calculator helpful.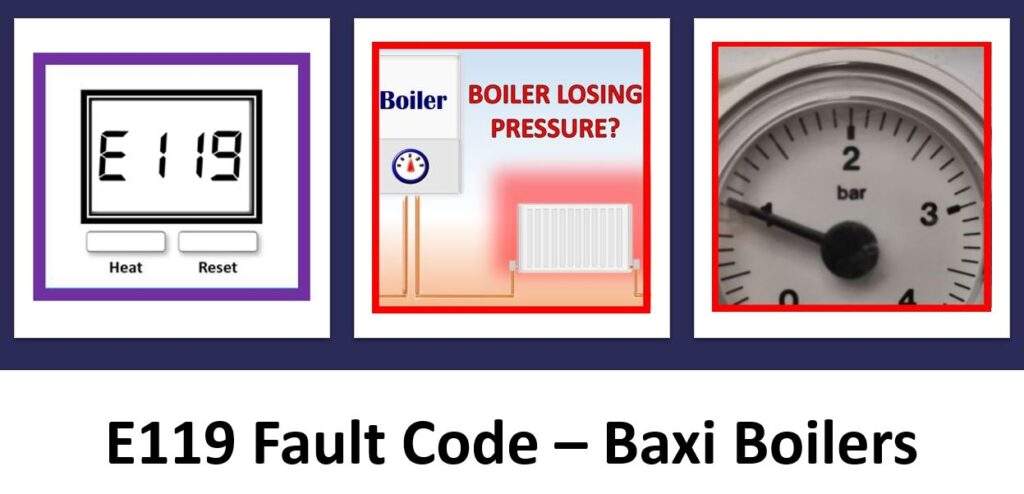 Ensure you are comparing the pressure gauge reading on a consistent basis as, often, a warmed up and actively running system will have higher pressure shown on the display than a cooled down one for example.
Related to the topic of boiler pressure and safety mechanisms – we have a really interesting guide to pressure relief valves (PRVs) and when they come into play or trigger.
Assuming you are noticing your boiler drop within that period of time we are measuring during, especially if it re-errors once again, then get in touch with us and we will help with your problem.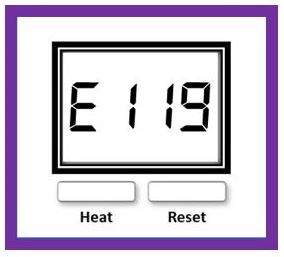 What's the Pressure Loss Code for my Boiler?
Clearly there various boiler brands and installers, not just Baxi or Potterton, each with their own designs, guides and instruction manuals. There are are too many to write up all here, but here are a few that are often seen in the UK industry that are similar to the E119 boiler fault:
It is important to remember – this is just a simple outline guide, always refer to your specific manufacturer and also the model specific instruction manuals as these vary.
Manufacturers sometimes use similar (or the even the same codes) for different models so always please check with your manufacturer, especially as new releases are coming out and being updated often. Even the manufacturer websites for error codes say 'possible' fault with their codes, so bear that in mind also.
Where is my E119 Boiler Leak Located?
If you do have an E119 boiler error that is caused by a water leak, it can be located in a wide variety of locations across your property, here are a few useful guides to the types of leak it might include:
In order to help find a water leak from central heating associated with an E119 boiler fault error, we will use some of the following methods in conjunction with each other to help maximise the chances of successfully locating your water leak:
We discuss some of these, and the associated process in our guide to trace and access which is certainly relevant to E119 boiler faults too.
If you are getting an E119 boiler fault (or the something similar for your specific boiler), and reckon you could have a water leak, we'll help understand what is potentially causing your boiler losing pressure in your property and help to investigate this further.
Our dedicated, experienced and friendly team see these kinds of issues commonly and understand what to look for to help find any leaks on your central heating system network related to E119 boiler faults or a variety other water leaks. We do this for both domestic and commercial customers, using professional leak detectors and trained, experienced local staff.
You may be interested in reading our article about Shower Leaking Through Ceiling Causes

Why is pressure is dropping on boiler every day?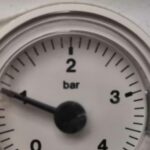 If you are noticing your pressure dropping on your boiler every day and that causes it not to work, you could have a water leak in your central heating network of pipes or another issue with your boiler. If your boiler is giving an error message such as E119 boiler fault (as can be seen on Baxi boilers) or a similar error then that can provide additional evidence.
How do you check the pressure on a Baxi Boiler?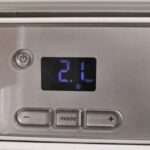 Most Baxi Boilers have a specific pressure gauge, most commonly seen on the front display of the boiler. Depending on the age of your Baxi boiler (and the model) it could be a digital pressure gauge or a manual one with a clock-like dial. This will possibly have a 'green zone' for safe and optimal boiler pressure for your device. To understand the best pressure of your Baxi boiler, consult your manufacturer instructions.
What does E119 mean on a Baxi boiler?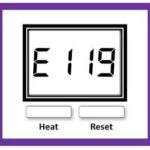 Seeing an E119 boiler fault on your Baxi boiler likely means your boiler is losing pressure which may stop it from heating. It may not operate at all if it's too low (for safety purposes). There's various potential reasons this happens, including having an issue with the boiler itself or possibly a leak in central heating pipes connected to it. Either way, in order to get rid of the E119 on Baxi boilers permanently, you likely need to find the cause.