Looking for 'Leak Detection Near Me'?
Look no further, we offer the following leak detection services across the UK…
We mentioned about boiler pressure dropping above, on that – see our article about PRVs (Pressure Relief Valves).
Rainbow International is the UKs largest damage management company, with a reputation for delivering customer service excellence across the UK, wherever you are based. We are experts in Fire, Flood and Water Damage – including Water Leaks.
Many of the top insurance companies work with us because they trust us to deliver across a range of services. As well as our water leak detection services, we offer a number of other damage management services helping people in their time of need.
So if you need any of the services above or our other services (including specialist cleaning, biohazard cleaning, external cleaning, jet washing, damp & mould surveys, smoke damage, asbestos testing or asbestos removal – and more) get in touch today.
No matter if you have a water supply pipe leak, a heating leak or even a hidden leak, with our leak detection specialists, we can help. On many occasions not only can we help find leaks we can also fix the leak for you too using different types of leak detection.
We will be happy to help you through what can be a difficult time, but our experienced and friendly staff will help.

How do you find a hidden water leak?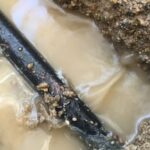 Professional leak detection services use specialist water leak detection equipment that can find water leaks, even in hidden places that cannot be seen with the human eye. There are various tools that can do this, each has a different use. For example – thermal imaging cameras, acoustic listening devices, pipe trackers and tracer gas can all help find hidden leaks, including those in walls, floors, ceilings or even underground. These tools work together and are very effective, especially in the hands of an experienced and trained leak detection expert engineer.