Trace and Access – Leak Detection Services
Many insurance companies have a section on their home insurance policies called 'Trace and Access'. This cover is there to trace (aka find / leak detection) your water leak and access (usually covering repairs needed from work required to access) of water leaks. It is an extra contained within many insurance policies nowadays.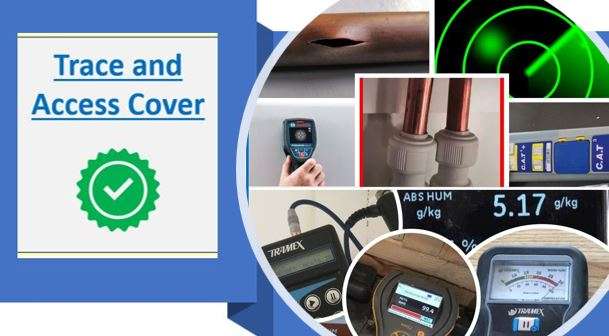 We have Trace and Access Experts and have access to professional tools and systems to help locate water leaks and aim to keep disruption to a minimum. Our friendly team will be there to guide you through the process before and during this process. Wherever possible, we will use non-invasive techniques to find your water leak, in both domestic and commercial properties.
This can help save you not only money in paying for this service yourself but also the worry about how you might find a water leak yourself. A leak detection specialist is likely to have a much higher success rate!
If your insurance company has asked you to find a trace and access specialist yourself, you have come to the right place, we can help. Contact us today for your FREE TRACE AND ACCESS CONSULTATION. We are experts in finding leaks in properties.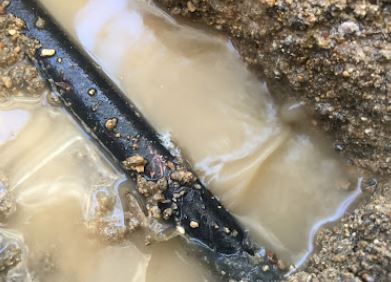 We have local Trace and Access trained Leak Detection technicians who are experts in finding leaks in hidden places in your property – we do work for both domestic and commercial properties and have excellent processes to make sure we maximise the chances of finding your water leak at home. Even if you are not covered for the finding of your water leak, you will likely be covered for the water damage caused to your property (which can be extensive) so we can help with that, for both buildings and contents cover, working with your insurance company.
As part of the Trace and Access Leak Detection service, we provide a detailed report at the end to provide to your insurer. We provide insurance grade reports that provide all the details your insurance company (or yourself) will require to understand your water leak, we also work with loss adjusters to provide this professional service.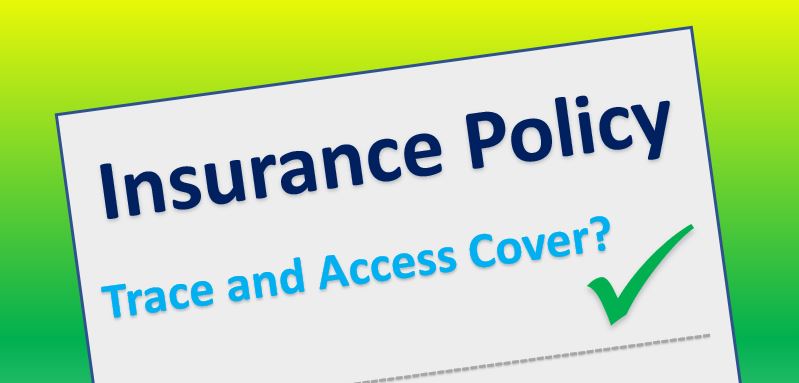 INSURANCE COVER
Is Trace and Access Cover Standard?
Trace and Access Cover is not always standard on your Home Insurance policy, so it is worth checking if you have it. It is very useful cover to have on your insurance policy in the event you actually have a leak at your property. Even if you do not have Trace and Access cover, we can still help you find your water leak like a loft tank leak which can be hidden or inaccessible.
Not all trace and access policies are the same, there are often different levels of cover – for example, some insurers may cover for leaks within your property but not outside your property so do check your cover. For more on this see our article on Water Leak Insurance Claims in the UK, which is a quick guide.
Whatever you do, if you have a water leak at your property, we recommend you act fact and get in touch with us today. We will help you find your water leak as soon as possible before it causes too much damage.
TRACE AND ACCESS COST
How much does it cost?
There are many different factors that can influence the cost of trace and access surveys at your property, especially as there is such a wide variety of properties. However, in our experience, if you have trace and access cover on your insurance policy, this is normally sufficient to cover the cost of this specialist work.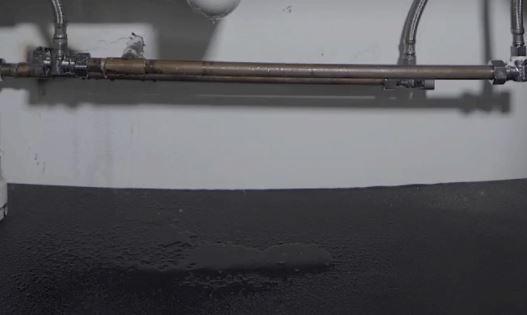 HOW MUCH WORK IS IT?
How long does it take to do Trace and Access work?
Depending on the complexity of the leak and the property this can vary. However, it is likely that a full, thorough trace and access survey will take several hours. In very complex cases, it can take longer. If someone says they can find leaks in your property in minutes, they are not doing it right! Speak to us.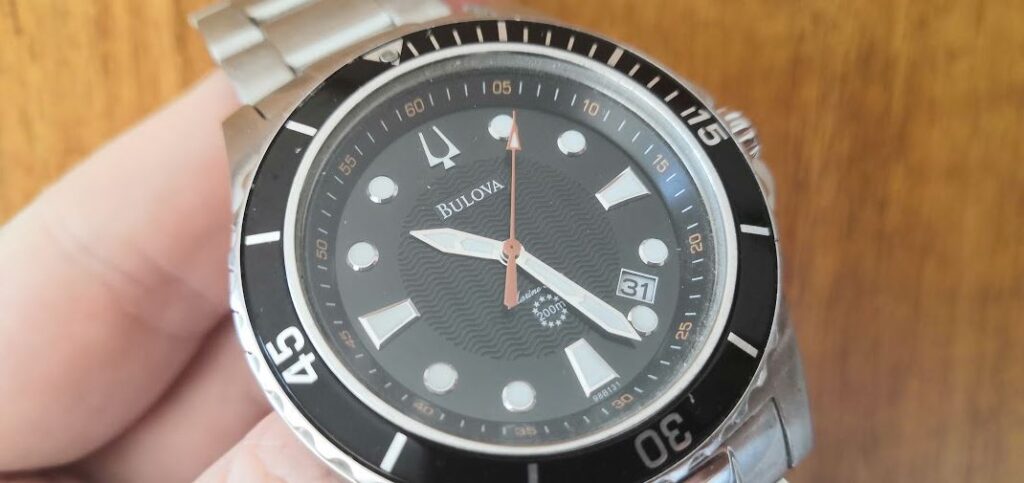 We can find water leaks in….
We can also help if you have had frozen pipes in winter causing a water leak.
If you need trace and access work at your property, make sure you use a professional, experienced, reliable and reputable company such as us. We do work for many of the biggest insurance companies and deliver a comprehensive service for all our customers.
Does building insurance cover include trace and access?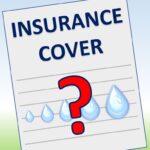 Whether or not the insurance for your building covers trace and access will depend on your policy from your home insurance company. Trace and access is the process of finding water leaks and is offered by professional leak detection expert companies such as ourselves. We work with many of the UK's leading insurance companies to provide this service. On most occasions, trace and access cover is an extra on an insurance policy so check your documentation. If you do not have the cover and think you might have a water leak at your home or business, contact us for help and assistance.
What is a trace and access report?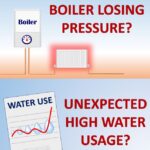 A trace and access report from a professional leak detection company such as ourselves is a report detailing the findings of the work we do in finding hidden water leaks in properties. It will explain the details of the methods used, our key findings and evidence to support this. This includes photographs (including thermal imaging photographs), moisture readings across a number of areas and materials as well as details on the cause of the water leak and the damage it has caused to your home or business. Our trace and access reports are provided to insurance companies too, they trust us to deliver this service to their local customers and so can you.