Pool Leak Detection
Swimming pools are increasingly popular in the UK and, as you'd expect, they require a lot of water both to fill and maintain depending on the design of the pool and additional systems associated with them, including the swimming pool plumbing pipework and filtration system, which can be extensive.
Water leak detection is a specialist skill requiring training, systems and leak detection equipment to do effectively. Swimming pool leak detection is also very technical but also very valuable to (a) find your swimming pool leak and (b) potentially save a lot of money in increased water bills and the potential water damage from a leaking swimming pool system, which can be considerable.
This can cover indoor swimming pool leak detection and outdoor swimming pool leak detection, each has it's own challenges and they are dealt with in different ways accordingly. Likewise a large commercial swimming pool leak detection job is different to a small domestic swimming pool leak detection. Because each job is very different, we recommend you get in touch with us to discuss your pool leak so that we can tailor our service to your situation.
On the subject of commercial swimming pools (such as hotels, leisure centres and at a spa), you may be interested in our guide explaining business interruption insurance interesting.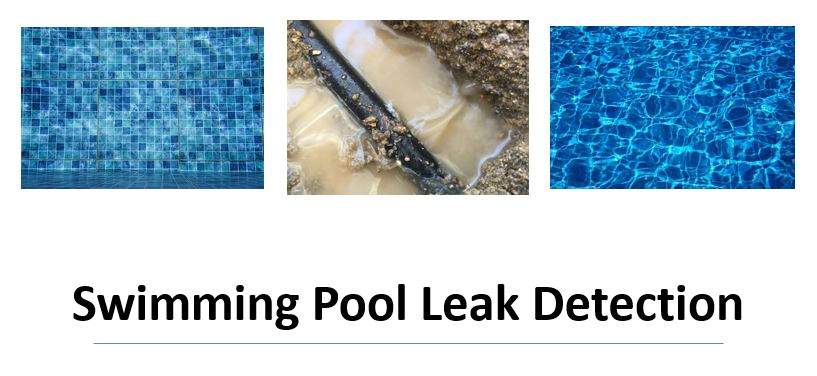 Swimming pool leak detection can be done in a number of places:
A leak in the actual swimming pool itself
A leak in the swimming pool filtration system
A leak in the water feed to and from the pool
People are often alerted to the fact that they might have a swimming pool leak from one of the signs of a water leak on our list, including increased water usage on their meter.
How to Find a Leak in a Pool?
As we said earlier, specialist equipment is required to carry out swimming pool leak detection and it is carried out using a different methodology to a 'regular' leak detection (not that they are all the same!).
Some of the leak detection equipment used to find pool leaks:
These leak detectors alongside our bespoke systems and trained leak detection expert engineers all help to maximise the chances of finding a water leak in your swimming pool or around it. Wherever possible we focus on non-invasive leak detection methods so as not to cause unnecessary damage to your swimming pool system or the structure around it, indoors or outdoors.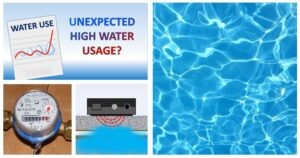 Swimming pools feature in our list of top 5 things that hold and leak water if they are damaged. As you might expect, with a swimming pool leak detection and the large amount of water involved this can be considerable, with thousands of litres of water involved. There are several of other interesting things on that list too so take a look at that article also.
Heated Swimming Pools
One thing that can be behind heated swimming pool leaks is pests, especially rats and mice and especially in winter months. They are attracted to the warmth, to shelter from the cold. The problem is that both rats and mice like to gnaw away at things including swimming pool plumbing pipes.
Clearly a leak in a heated swimming pool will mean that you are likely losing heated water from the system which will need to be topped up with new, fresh unheated water which will then need heating. Again, this can add to the cost of a swimming pool leak whilst it remains leaking.
This in turn can cause a water leak and they can be quite dramatic, losing a lot of water quickly. To see how much a water leak can use in water, and an estimate of what it might cost, see our water leak cost calculator. For example, a 'medium spray' leak at 'medium' pressure can lose 1,728 litres per day!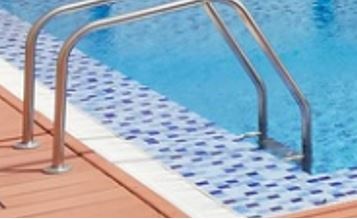 Swimming Pools and Water Meters
Bearing in mind our previous section, one of the things that comes into consideration is the cost of lost water, especially if you are on a water meter. In fact, water companies may insist that you have a water meter if you have a certain type of swimming pool, this can obviously add to the cost of a water leak.
For example, on the Seven Trent Water page they say "You must also have a meter if you choose to have a swimming pool or a pond with over 10,000 litres capacity that is designed to replenish itself automatically". Likewise, Thames Water in their guide say that "We will apply metered charges for a property if… …there is a large pond or swimming pool". So make sure you look into this for your water company policy.
We have links to the different water companies on our page on how to report a water leak. On the subject of swimming pools, this is one of the places that Water Test Kit Strips are sometimes utilised. There are also Drinking Water Tests.
The interesting thing about the comment above is that 10,000 litres sounds like a huge amount of water. However, 1,000 litres is 1m³ so 10,000 litres is 10m³. A smallish pool which is 5m long, 4m wide and 1.5m deep is 30,000 litres – three times over the required size in that example.
By way of comparison, an Olympic swimming pool is 2,500,000 litres of water! If you want to see how much water is in your swimming pool, use our water volume calculator. You may also like our Water Usage Calculator UK.
If you need help with swimming pool leak detection, contact us today and our team will be glad to discuss if we can help you and how.

How can I tell where my pool is leaking?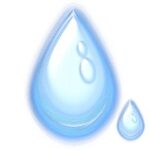 Finding a water leak in a swimming pool can be a complicated thing to do, for a number of reasons. Unless the leak is obvious, it often requires professional pool leak detection services like ourselves. We can check the various element and specific components of the pool to help track down the pool leak, which when it comes to pools, can be large and use a lot of water up in a relatively short space of time.
Where is the most common pool leak?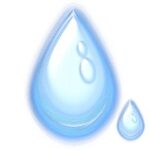 Swimming pool leak detection processes can cover a wide number of elements within the swimming pool directly and indirectly, so narrowing down to the most common pool leak will depend on what type of pool it is, where it is located and how it has been installed. Most swimming pools are unique, especially when you consider that they are often retro-fitted to existing properties, all of which vary. Therefore, a number of key components can vary.