Local Plumber Near Me
That phrase 'Local Plumber Near Me' is one of the most common things people search for on google when they are looking for anything plumbing related, even water leaks. But is that the right thing to be looking for when you have a water leak at your property and require professional leak detection?
Of course people also want to use a local trusted company too. One who can solve the problem they have, on this occasion looking at a water leak at your property.
We have talked previously about the fact that plumbing leak detection and plumbing fixtures are common sources of water leaks, so check that article out too.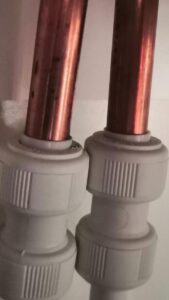 Can a Local Plumber find my Water Leak?
The honest answer to this is 'possibly'. If you have a really obvious water leak in a place you can see, and you are confident there are no other hidden leaks, then a regular local plumber that you can trust will do the job for you, or any other plumbing work you require.
However, as we have discussed before, on many occasions water leak causes are in hidden places around a property, such as:
As you can see, these are clearly trickier places to find a leak than something 'standard' like a leaking tap, leaking toilet, leak under the sink etc which would be commonly dealt with by local plumbers, or even confident DIYers in some instances. To help maximise the chances of finding a leak, use a leak detection expert such as ourselves.

Many of those types of water leaks mentioned above require professional leak detection equipment in order to find leaks effectively. That type of equipment is not standard for a local plumber on most occasions. In fact, we work closely with a lot of local plumbers and get regular referrals from them where they have been asked to find a leak, have been unable to and recommend our services.
If your local plumber says he thinks you might have a water leak, get in touch with us as it could help to prevent water leaks causing too much damage to your property.
We have talked previously about Trace and Access cover with your insurance company, we provide trace and access leak detection services to many of the UKs biggest insurance companies. But also, we get a lot of people who have been asked by their insurance company to source a local trace and access company or leak detection specialist, not a local plumber.
Local Plumber vs Leak Detection Specialist
In our article on Leak Detection Specialists, we explained in detail about finding water leaks yourself, or by using a local plumber. But just as we said above, we explained how that on many occasions a leak detection specialist will be needed and have a higher likelihood of finding your water leak with all their knowledge, experience, training, systems and tools to find water leaks.
Some water leaks, especially hidden ones, cannot be found (especially in non-destructive ways) without the use of specialist equipment, which a local plumber may not have, such as:
Remember, we offer a free consolation service, so contact us to discuss your water leak and we will discuss what we can do to help for your specific situation. If you have a simple plumbing problem, certainly contact a local plumber but if you have a leak, we recommend a leak detection expert such as ourselves. There are other advantages of using our services too…
Water Damage from Water Leaks
As well as offering leak detection, we are water damage restoration experts too, in fact Rainbow International are the biggest water damage management company in the UK.
But what difference does that make vs a local plumber?
Well, on top of helping you to find a water leak, we can expertly asses the damage to your property from the water. If needed, we also offer property drying services using our specialist drying equipment (including industrial dehumidifiers) to help get your property back to pre-incident conditions.
We are also experts in a number of other areas associated with water damage:
It is not very common for a local plumber to have that level of expertise, but we do. So if you have a problem with a plumbing leak, get in touch with our friendly team today.